HERAKLION AIRPORT (HER) INFORMATION
Origin
Airline
Flight no.
Scheduled
Est./Actual
Status
No flight arrivals were found at Heraklion Airport.
Destination
Airline
Flight no.
Scheduled
Est./Actual
Status
No flight departures were found at Heraklion Airport.
Car Hire at Heraklion Airport
UNBEATABLE VALUE CAR RENTAL
Free Amendments | Free Cancellations | No Card Fees




Heraklion Airport - All Information on Heraklion International Airport (HER) Heraklion Airport
Heraklion 716 01, Greece
phone +30 2810-397129
phone+30 26930 51160 (Lost + Found)
emaild5st@hcaa.gr
call_end+30 2810-221700 (fax)
Facts and History about Heraklion Airport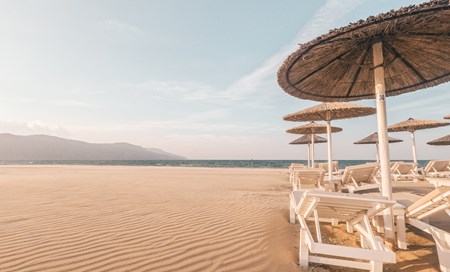 Heraklion Airport is the second largest airport in Greece, handling over seven million passengers per year, and is found on the island of Crete. Crete is the largest of the Greek islands, and Heraklion is considered to be one of its main gateways. Another major airport on the island is Chania, which is also one of the more important airports in Greece. Heraklion serves many tourists, local visitors and business professionals, as its location is only 5 km, or 3 miles from the island's capital city of Heraklion, and is therefore a very convenient arrival point. Heraklion, or Iraklion (Iraklio) is mainly an industrial city, but is a popular stop for tourist attractions as well.
Another name for Heraklion Airport is the Nikos Kazantzakis, which is a name derived from a famous Greek writer and philosopher. The postal address is Heraklion International Airport N. Kazantzakis, 71601 Heraklion Crete, Greece. Passengers may also contact staff at the following telephone number: +30 2810397129. It is well connected to the main roads of Crete. Its exit road is known as the Makariou, and this road leads to a major highway, often referred to as the "National Highway". The National Highway heads west to the city of Heraklion, or east, along the north coast of the island. Motorists can use this highway to reach just about any of the major towns and cities of Crete. The airport's coordinates for a satellite navigation system are 35°20′09″N 25°10′25″E.
Heraklion Airport is international, and the primary airport for the island of Crete. The only airport in the country with a greater number of passengers is Athens International, situated on the mainland, nearby Athens, the country's capital city. It is at its busiest during the warmer summer months, when visitors flock to Crete to enjoy some water sports or simply to wander the charming towns. Therefore, many of the airline companies offer seasonal flights along with scheduled routes available throughout the year.
A number of low-cost airline carriers are present, such as Air Berlin, Easyjet and Germanwings. Some of the destinations served by these low-cost carriers include Birmingham, Bristol, Glasgow-International, the London airports of Gatwick, Luton and Stansted, Manchester, Munich, Hamburg, Zürich and Rome Fiumicino. Ryanair is another very popular airline carrier who have firmly established themselves as a leader in the low-cost flight industry, but do not offer flights from here.
Other airline carriers present at Heraklion International Airport include Air Méditerranée, with flights to Nantes, Lyon, Bordeaux and Paris-Charles de Gaulle, Air One to Milan Malpensa, Iberworld with flights to Barcelona and Madrid, and Sky Express, flying throughout the year to Athens, Mykonos, Rhodes, Samos Patras-Araxos. The following airline companies only offer seasonal flights – Vueling, Austrian Airlines, Helvetic Airways, Blue Air and Alitalia.
The history of Heraklion Airport began in the summer of 1939 when the first little plane landed on the airport's site, which was a stretch of flat agricultural land. The first airplane to land was a Junkers-52, with a capacity to carry just fourteen passengers. Civil flights halted in 1941 during World War II, but resumed its operations in 1946. During the 1930's and 40's it only had very primitive facilities. It consisted of three tents, one for passengers, one for airline companies and another for administration, and storm lamps were the only lights used for the runway. In the later 1940's and during the 1950's the airport improved its facilities by replacing the tents with a small building, and a new runway was constructed of 1,850 meters in length. Once the new runway was completed, DC-4 planes (with four engines) by the airline company of TAE started using the airport, and greatly increased the passenger traffic. By the 1960's other airline companies, such as Olympic Airways, began their operations, with new DC-6B planes, with a capacity for 95 passengers. By the year 1967 the airport was handling over 100,000 passengers a year.
The greatest improvement came about in 1971, with a new passenger terminal building, along with airplane hangars and service roads, and new Foreign Departures and Arrivals lounges in later years. In 1996, with passenger numbers nearing the four million mark, the terminal building was expanded by 11,700 square meters. Today, the airport consists of two asphalt runways, of which the longest is 2,680 meters, parking space for fifteen large airplanes and a parking space for lighter planes. The passenger terminal has a variety of facilities, which include a duty free shop, information desk, car rental offices, a bank, currency exchange services, a medical office and lost and found services. There are baby changing facilities available, and accessible areas for disabled passengers. Additional assistance can also be arranged with the passenger's airline company.
Hotels near Heraklion Airport
There are a number of hotels to suit all budgets and requirements at or near Heraklion Airport.
Parking at Heraklion Airport
See options for parking services at Heraklion Airport.
Additional Services and Amenities at Heraklion Airport
At Heraklion Airport you will find the usual array of bars and restaurants, airport lounges and shops.
Things to do in Heraklion
There are a number of activities to suit all ages and interests in the region - see a selection of tourist activities in Heraklion, Greece.
Services at Heraklion Airport
Useful Information about Heraklion Airport