Heraklion Airport Departures (HER)
Not all flights may be showing. If not available use search above to find your flight by airline, airport or flight number.
Destination
Airline
Flight no.
Scheduled
Est./Actual
Status
Thessaloniki (SKG)
SKY express
GQ561
02:00
Scheduled
Larnaca (LCA)
Tus Air
U8729
02:00
Scheduled
Athens (ATH)
Aegean Airlines
A3315 expand_more(2)
02:45
Scheduled
Athens (ATH)
Emirates
EK4916
02:45
Scheduled
Athens (ATH)
Olympic Air
OA6315
02:45
Scheduled
Athens (ATH)
Volotea
V74255
03:15
Scheduled
No flight departures were found at Heraklion Airport.
Flight Departures at Heraklion Airport
Heraklion Airport is a large airport on the island of Crete, in the Mediterranean, when compared to other airports in the country of Greece. It is in fact the second largest airport in the country, falling shortly behind only the capital city's airport, Athens International. Heraklion Airport currently handles just over seven million passengers per year, and is also well known as the Nikos Kazantzakis Airport, after a Greek writer and philosopher. The official code for this airport is HER, and its location is just five kilometers east of Heraklion, Crete's business center and capital city. Heraklion is also referred to as Iraklion, or Iraklio, and offers many tourist attractions among its primarily financial activities. Passengers on departure flights from Heraklion Airport have a wide variety of airline companies from which to choose, and will find adequate facilities within the departure area of the building.
The airport of Heraklion is nearby a number of interesting towns on the island, and is easily accessible from just about all regions of Crete. There are a couple of main roads which make driving to the airport an easy task, and which also connect all the main town areas of the island. Nearby, the National Highway, or E75 heads east along the north coast before it turns inland, crosses to the other side of the island, and west, into the city of Heraklion. The Route 99 is followed from inland areas, and leads almost directly to Heraklion Airport. The airport's access road is the Makariou, or otherwise known as the Leoforos Ikarou. From Heraklion, the drive to the airport is approximately ten to fifteen minutes, depending on your exact starting location and traffic conditions. From the further end of the city and during rush hour traffic, travelling times can be longer.
Although there are excellent road networks in Crete, and in the city of Heraklion, many passengers departing from the airport prefer to travel by bus or taxi. This is also perhaps one of the reasons why the airport does not offer extensive parking options. However, there is a fairly large parking area for short-term parking at the terminal, and long-term parking is provided at privately owned locations nearby. KTEL is the main local and regional bus company operating the public transport services on Crete Island, and provide regular bus routes to the airport from the bus terminals in Heraklion. Passengers will arrive at one of two bus stations in the city from other town destinations, and then can continue to the airport on the local bus service. The buses are quite slow, and make many stops along the way, therefore ensure that you allow for plenty of travelling time before your departure flight. Taxis from any location can also be used for reaching the airport, and are a faster and more convenient way to travel.
While many of the airline companies operating from Heraklion Airport only offer seasonal flights, during the busier summer months of Greece, there are a number which have permanently scheduled flights to a variety of domestic and international destinations. Low-cost airline carriers, such as Easyjet, Air Berlin, Germanwings and Thomson Airways mainly offer popular seasonal flights to destinations such as Birmingham, the London airports of Stansted, Gatwick and Luton, Manchester, Rome-Fiumicino, Munich, Cologne/Bonn and Zurich. Thomas Cook Airlines offer a number of year-round available flights, and the carriers of Olympic Air, Sky Express and Aegean Airlines fly to Athens. Other popular airline companies and their destinations include Air Méditerranée to Bordeaux, Lyon, Nantes and Paris-Charles de Gaulle, Air One to Milan Malpensa, Iberworld to Barcelona and Madrid, Norwegian Air Shuttle to Copenhagen and Monarch, with flights to Dublin and the United Kingdom.
Passengers should arrive in good time for their departure flight from Heraklion Airport, especially during the busier season, and allow sufficient time for finding parking, check-in procedures and passing through the security controls. Although the requirements of all airline companies may differ, in general, passengers should be at the airport at least an hour before a domestic flight, and about two to three hours before an international flight. Luggage allowances vary according to passenger classes, but usually two hold baggage items per passenger are allowed, as well as certain items of hand luggage. A laptop, umbrella or walking stick, baby strollers, coat or jacket, cameras or video cameras and reading material are just some hand luggage items permitted on board. No instrument or object deemed as potentially harmful is allowed in the cabin area, and these items may include scissors, knives and toy guns.
The new regulations surrounding the carrying of liquid substances in hand luggage affects all airports in Europe, including Heraklion Airport. Passengers must separate their various liquids into containers of not more than 100ml, and the total amount of liquids should not exceed one liter. These items are then placed in a transparent and re-sealable plastic bag, and handed separately to security officials for inspection. The rules do not however apply to hold luggage, or baby milk formula and food, special dietary foods and medicines required for the duration of the flight. It is recommended to have a doctor's prescription should you need to carry medicine onboard.
Facilities for Heraklion Airport departures passengers include a VIP lounge, baggage storage office, a bank and ATM's, currency exchange services, a post office, baby rooms, a duty free shop and a couple of snack bars and sit-down restaurants. There are no business or conference services at the airport. There are also no hotels on the airport's site, but there are many within a close proximity of Heraklion Airport. Disabled passengers should find the facilities they require as well, or can make additional arrangements for assistance with their airline company. Further information is available at the information desk within Heraklion Airport's terminal building.
Was your flight delayed or cancelled?
You may be eligible to receive up to 600 EUR compensation per person in your party..
Claim Now!
Beat the Queues
Don't stand sweating for 45 mins waiting for Security. Get a fast track and get through in 5 mins or less.
Book now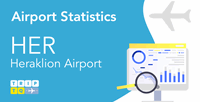 Heraklion Airport Passenger Traffic Soars 7.91% in Q3 2023, Fully Recovering from Pandemic