Heraklion Airport Arrivals (HER)
Not all flights may be showing. If not available use search above to find your flight by airline, airport or flight number.
Origin
Airline
Flight no.
Scheduled
Est./Actual
Status
Thessaloniki (SKG)
Aegean Airlines
A3574 expand_more(1)
12:55
Scheduled
Thessaloniki (SKG)
Olympic Air
OA6574
12:55
Scheduled
Larnaca (LCA)
Tus Air
U8728
01:00
Scheduled
Athens (ATH)
Aegean Airlines
A3314 expand_more(1)
02:05
Scheduled
Athens (ATH)
Olympic Air
OA6314
02:05
Scheduled
Athens (ATH)
Volotea
V74254
02:40
Scheduled
No flight arrivals were found at Heraklion Airport.
Flight Arrivals at Heraklion Airport
Heraklion Airport is a popular arrival point for many people when visiting the island of Crete. Crete is the largest of the Greek islands, and well known for its charming towns and beautiful seaside resort areas. Heraklion city, or otherwise referred to as Iraklion, or Iraklio, is the capital city of Crete, and also the financial hub of the region, offering a number of tourist attractions which include historical sights and museums. The city's airport is also quite well known as the Nikos Kazantzakis Airport, after a Greek writer and philosopher, and has the official airport code of HER. Passengers arriving at Heraklion Airport will find adequate facilities within the arrivals terminal, and public transport that will take them to the city center of Heraklion.
Heraklion Crete Airport is served by a number of airline carriers, many of which are low-cost companies with seasonal flights between Heraklion and a number of destinations. Passengers who need to fly from Athens to Heraklion can use Aegean Airlines, Olympic Air or Sky Express, while the low-cost airline companies of Easyjet, Germanwings, Thomas Cook Airlines, Thomson Airways and Air Berlin offer flights from Munich, Hamburg, Bristol, London-Gatwick, Manchester, Rome-Fiumicino, Cologne/Bonn, Glasgow-International, Birmingham, Doncaster and Newcastle upon Tyne. Other airline companies with flights to Heraklion Airport include Monarch, Luxair, Blue Air, Iberworld, Alitalia, Air Méditerranée, Air One and Wizz Air.
Heraklion Airport handles just over seven million passengers per year, and is therefore the second largest airport in Greece. The only airport larger is Athens International, which serves the capital city of the country. The Mediterranean airport of Heraklion has been expanded over the years of its existence, but is still regarded as too small to handle its passenger traffic, especially during the busier summer months when the airport is at its full capacity.
Passengers arrive at Heraklion Airport's single terminal building, and will be able to enjoy a variety of facilities should there be some time to spare before leaving the airport. There are a few shops and restaurants available, as well as banking and currency exchange services. Passengers will also find a post office, luggage storage service, baby rooms, a medical office and a hotel reservation service should that be required. There are no hotels at the airport, but there are a few in the nearby proximity of the airport. The closer hotels are useful if you will be just staying over for the night in Heraklion before moving out to explore the island. Otherwise passengers who will be staying longer in Heraklion will find a large variety of hotels and similar establishments scattered throughout the city.
Although airline companies are careful to ensure passengers and their luggage items arrive safely at their desired destination, it can happen that luggage items go missing. In this unfortunate scenario, report the missing baggage immediately to your airline's handling company at Heraklion Airport. All four handling companies have offices in the arrival area, and will be able to provide further assistance with retrieving your baggage. Luggage that has been damaged should also be reported immediately, and you may be compensated for the damages should it be the fault of the airline staff.
Passengers who are ready to leave the airport can either rent a car (or a bike!), or make use of the public transport services available. It is highly recommended to rent a car for exploring the island, as it gives you the freedom to really go where you want to go, and in your own time as well. A rented car is also easier when travelling with small children, or when there is precious little time to holiday, as bus services can be slow and only operational at certain times. The Heraklion Airport car hire companies can be found in the arrivals area of the Airport, and include Hertz, Avis, Sixt, National, Budget, Europcar and Alamo. These companies are the car rental giants of the world, and offer competitive prices and a wide range of quality vehicles. The rented cars are also parked within easy walking distance of the terminal.
Locals and tourists very commonly use bus and taxi services. There is a regular bus that leaves the airport every few minutes, and travels to the main bus terminals in Heraklion, from where regional buses can be taken to reach all other cities and towns on the island of Crete. The KTEL bus company mainly operates the local and regional bus services in Crete. The buses are considered to be comfortable, reasonably reliable and very affordable. Bus Station A in Heraklion is also nearby the port, for ferry connections. Taxis are readily available from outside the terminal building, and are considered as fairly inexpensive when compared to taxi services elsewhere in the world.
Heraklion Airport is one of the best points of arrival for all types of passengers travelling to Crete, whether the trip is for business or personal reasons.
Was your flight delayed or cancelled?
You may be eligible to receive up to 600 EUR compensation per person in your party..
Claim Now!
Beat the Queues
Don't stand sweating for 45 mins waiting for Security. Get a fast track and get through in 5 mins or less.
Book now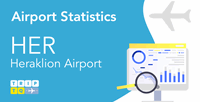 Heraklion Airport Passenger Traffic Soars 7.91% in Q3 2023, Fully Recovering from Pandemic